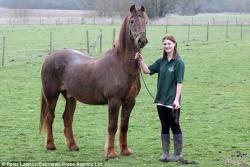 Keeping Veteran Horses Active
We have some wonderful 'golden oldies' at Remus Horse Sanctuary, and while the horses that end up with us or that we rescue may not have been well looked after by previous owners, there's no reason why veterans can't live active lives in their twilight years.
Even in their twenties, horses can still work; with some TLC, patience and adjustments, they can even continue to compete if you want to. Of course, our rescue animals here at the Sanctuary have a life built around them giving them all they need and asking nothing of them.
The key is to take things slowly and be aware that attaining and keeping a level of fitness may take some time. Building up the amount of work – and this may mean several weeks of walking exercise before moving on to anything else – will reduce the likelihood of injury.
Keep exercise sessions regular and short, and make sure you allow plenty of warming up and cooling down time too.
Of course, there will be a time when they can't perform at your required level – it's important to recognise this and make adjustment to avoid putting them at any risk. Look out for stiffness, lameness and loss of condition as key signs. There's plenty more advice in this excellent article at www.yourhorse.co.uk/horse-care/keeping-veteran-in-ridden-work/.
As you will know, it's our 40th Anniversary this year and we are campaigning to stop any equine (so horses, donkeys and mules) being born to die. Find out more about our #BornToDie campaign on our website and please fundraise for our 40th Anniversary Challenge too!